On January 19, 2015
aluminum cans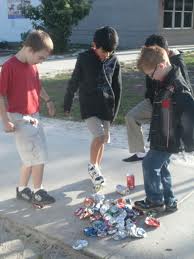 We recently had a question posed on FB if it's better to leave aluminum cans uncrushed when disposing of them in your Mr. Murph recycling bins.
We didn't go into an in-depth answer at the time, but here's a more thorough reply to that issue. The long and short of it is no, do NOT crush the can. Here are two very good reasons:
The processing equipment separates mixed recyclables by weight and the dimension of the recyclable. 2D recyclables such as paper are  separated differently from 3D  recyclables like aluminum cans.     If an aluminum can is crushed, it takes on a 2D shape which could result in  the aluminum can ending up with paper. Not a good thing…
Screens that are used to separate paper from containers are designed to separate two ways. First, is the spacing between the rotating disks, which allow 3D objects to fall through. The final screen's spacing is designed to remove small 2″ or less 3D objects so they do not end up on the container line. Those objects are not recyclable and are removed as trash.
Second, the final screen is tilted at a 42 to 47 degree angle, which allows the 3D containers to fall back as they come in contact with the rotating disks and are carried  to the container line to be sorted. If an  aluminum can is crushed, the can may be small enough to allow it to pass through the spacing between the disks and end up in trash. Oh, no! It's like someone taking away a bag of McDonald's french fries from you and tossing it in the trash.
So, remember…I like my cans nice and uncrushed. And,  please no cheese on my pizza boxes…lol
Thanks for asking.
Peace out,
Murph