These amazing people are responsible for the HUGE recovery and recycling rates we're achieving in Green Country. Thank you TRT and everyone who helps Mr. Murph do the right thing for Tulsa's environment!
Did You Know?
Because of the awesome job they do (and Mr. Murph's automation), we're now able to process and reclaim almost 400,000 pounds or 200 tons of recyclables EVERY DAY.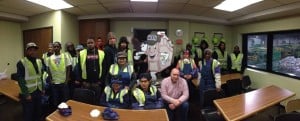 In ONE MONTH, the recyclables we process save enough water to fill 24 Olympic size swimming pools.
In ONE YEAR, we collect and process enough mixed recyclables to fill the BOK Center… six times.
Since 1987, American Waste Control has recovered ENOUGH RECYCLABLES TO FILL the CITYPLEX and BOK TOWER 17 times from top to bottom.