On April 20, 2015
businesses, sustainability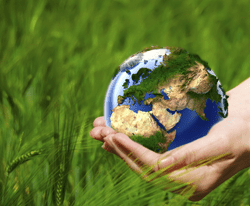 In the waste industry, being sustainable is more than an environmental gesture—it's a necessary part of doing business and relating to the community. The competition is just too stiff for us to slack off in this area, plus to do so, would go against the grain of our business passion and mission.
Let me give you some reasons why sustainability is so much apart of our core values—and why it should be for other businesses as well.
Leadership. American Waste Control's goal is to remain the leader in the waste collection industry, but above all, we want to be a company that folks can count on—to help make the quality of life in our city the best it can be. That goal has driven us to create a variety of programs strategically aimed at community involvement and recycling education.
One such program is the free field trips we offer to local students for a behind the scenes glimpse of the recycling process with our very own Mr. Murph (Material Recovery Facility). These field trips provide a terrific hands-on experience when it comes to learning about recycling while also reinforcing important science basics.
American Waste Control sees our community involvement as a way of giving to others and being a leader to other Tulsa businesses as well. We believe this empowers folks even more to make the environment a priority and gets them excited about sustainability and doing the right thing for our community.
Cost Savings. Sustainability is about improving the bottom line as well as the environment. Often that has to do with identifying ways to uncover energy efficiency opportunities and making wise choices in regards to daily operations.
A good example of this is our method of compaction after we collect trash. With every load, we attempt to reduce the frequency of pickups and our carbon footprint by compacting the trash to take up less space. In real-world experience, this results in an average of 40% fewer trips by us—in effect reducing fuel consumption and air pollution by our trucks by 40%!
Another great example: The use of GPS tracking and routing technology for our fleet of collection vehicles. A fleet of garbage-eating vehicles can consume a lot of fuel in no time— and with the price of fuel these days; inefficient routes or excess idle time can lead to hefty expenses and take a toll on our environment. But by using data collected from a GPS tracking device, routes are adjusted to avoid back-tracking and employees are spending less time idling and wasting precious fuel.
Consumer Demand. Being green not only saves money, it also creates new revenue by attracting customers who care about a company's environmental footprint.  This is especially true for a waste management company and why we go to great lengths to make every client a sustainability partner with us. Our customers know when they do business with AWC, they're not just getting waste services, but they're also helping recycle Tulsa's trash and produce a new energy resource via our waste to energy technology. That's a definite win-win for everyone and echoes the huge demand for companies who genuinely care about the environment.
Brand Reputation and Publicity. Promoting positive customer relations through sustainable initiatives generates brand value and improves a company's image. I think we've seen this time and time again with every recycling and waste to energy campaign we've implemented. People absolutely respond when you have a positive eco-friendly message and want to be part of what you're doing as a result.
Rallying Point for Employees.  I know at AWC that our employees get excited when they are working to help the community. Sustainability is embedded into our corporate culture and is a definite selling point when it comes to our workers and getting them involved. Just look at our social media pages and you'll see how engaged our employees are with what we're doing as a company.
There's no question, an investment in sustainability—people, planet and profit—can not only go along way in benefitting the community, but it's also a critical part of an overall business strategy. And for good reason.
Creating a sustainability culture has been proven to significantly reduce operating costs, eliminate waste, create energy efficiency, strengthen a company's brand value and open up new markets.
And, we know this for sure: the things we do today to make sustainable living easier for the residents of our communities, will have far reaching effects in making all of Tulsa a better place to live.