On June 19, 2012
event, fun
I love making the rounds in Tulsa, especially when I can be around other mascots in the Tulsa area. Here we are at a Campfire Girls event where we had a tug of war with an airplane. Yep, an airplane.
Gives new meaning to a wing and a prayer, doesn't it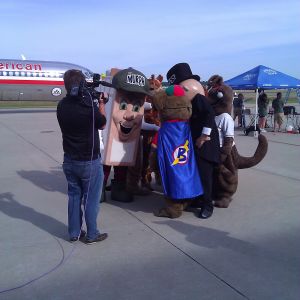 ? Well, we didn't have a prayer going up against that huge machine (you can just see it in the background), but we did have a blast.
I could probably swallow a plane given enough time…I just can't pull it very far. Well, anyway…
Keep recycling,
Murph