On December 27, 2011
bird feeder, do it yourself, recyclable
Hey kids, got a great way to attract birds to your yard without an expensive, store bought feeder.
Just build the feeder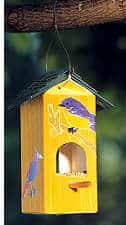 yourself…using a common everyday (recyclable) milk carton. That's right, a milk carton. Just make sure it's clean first.
Here's how you do it:
First, cut openings on opposite sides of a milk carton and paint it with non-toxic paint.
Make the shingles on the roof by gluing popsicle sticks on top.
Poke holes just below the openings for a perch and slide a dowel through the holes.
Pour in some birdseed on the bottom and hang the feeder in a spot where varmints can't reach.
And, there you have it… an easy, do it yourself bird feeder. Remember, it doesn't have to be fancy (or expensive) for birds to take notice.
You can even make your own birdseed mix by blending nuts, sunflower seeds and yellow corn together.
Like this project?  Let me know!
Mr. Murph