On April 20, 2012
aluminum, earth friendly, green, Mr. Murph, recyclable
Did you know that… 50% of most aluminum cans is post-consumer recycled?
You would be amazed at how quickly these cans get from your fridge back to the supermarket. Let me explain…
Well…from the time you buy it at the store, you pop the can, drink it, throw it away—it goes to the trash stream, we collect it, we bail it, we send it off to a manufacturer—he melts it down and remakes it into a new product. He sells the can to Dr. Pepper, DP fills it, puts it in the truck and puts in on the shelf at your Wal-Mart—that takes about 6 weeks.
Talk about quick… when we recycle, we're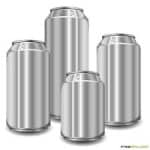 saving a lot of resources…and time!
Keep up the good work.
Mr. Murph