On April 27, 2012
cardboard, less impact, Mr. Murph, recycling, save, trees
Here's an interesting fact. Did you know that one bale of cardboard is the equivalent of 17 trees!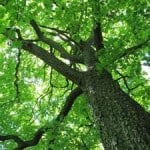 Mr. Murph goes through a little over 1000 tons of trash a day. That means we are sorting out (and eventually recycling) about 50 tons of cardboard a day.
We are pulling that out of the waste stream which is equivalent to about 800 trees.  Think about that… 800 trees a day.  It doesn't take long until you save an entire forest.
The bottom-line is, we save by recycling.