On April 13, 2012
green, Mr. Murph, Recycle
Ever  been asked that question? Believe me, I have.
Here's some important things recycling does…off the top of my Mr. Murph head…
Recycling (1) conserves our natural resources
(2) reduces pollution from the processing of raw materials and
(3) saves energy in the manufacturing of new products.
Recycling also reduces the size and number of landfills we depend on to deposit our garbage.
Think of recyclables as a big treasure chest…I'm talking valuable stuff here. We can reuse them to make new products, and by doing so… we're creating new jobs and helping provide for a cleaner future for our city and state.   Pretty good reason to recycle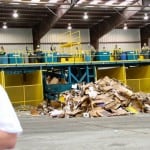 , huh?
Mr. Murph