On June 29, 2012
event, green, kiddos, parade, Recycle, Tulsa
Be sure and come by tonight and tomorrow to the Green Corn Festival in Bixby.  The Festival is going on right now in the evenings in downtown Bixby, south and east of 151st and Memorial, June 28, 29, and 30th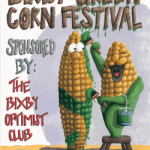 . Saturday it'll be going on all day long.
Charley Young Park is the site of the Gazebo stage, and games, surrounded by food and crafts booths. Just a hop and skip over is the Youth Stage and Carnival. Cool off during the heat of the day by joining in a few rounds of bingo in the building at the corner of Charley Young Park.
Best yet, you can check me out in the parade…I'll be the ONLY one with a conveyor on my back…you can't miss me.
Meet me out there and we'll have a blast…
Mr. Murph