On May 23, 2012
cardboard, earth friendly, event, feed mr. murph, green, milk cartons, newspapers, Recycle
Be sure and stop by Bob Hurley Ford, this Saturday, May 26th,  and bring your paper, plastic, bottles and cans –so you can  Feed Mr. Murph!
Last year, Bob Hurley dealerships fed Mr. Murph a record 881, 000 pounds of recyclables.  That's equal to about 421 F150 trucks filled to the max with things like aluminum cans, cardboard, paper, and plastic.
We want to encourage more Tulsans to recycle–and you can help us. We'll be there with extra recycling bins, plus free refreshments…and of course, Mr. Murph! All we need now is you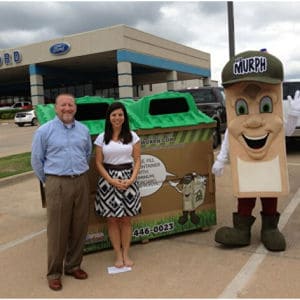 (and your friends)!
Remember it's COOL to recycle.
See you this Saturday!