On June 13, 2012
aluminum, metal, reusable, save, steel industry
Did you know recycling metal saves a big time amount of energy and money?
Take  steel products, for example…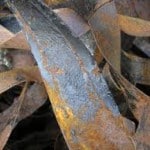 they have at least 25 percent steel scrap, which lowers the requirement of energy to make steel by 75 percent (as opposed to using virgin metal). No wonder scrap metal is in big demand.
Aluminum cans too… recycling just one saves enough energy to run your TV for 2½ hours.
Mr. Murph