On January 13, 2012
baking soda, earth friendly, garlic, mineral oil, vinegar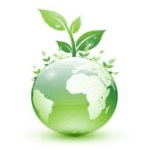 You know me, always thinking up ways to have less of an impact on planet earth.
I'm thinking Fridays might be a good time to post some  cool eco-friendly products you may want to try.
Here's one idea I happened to stumble across…
 Earth-friendly Cleaning Products. Instead of bleach and other toxic cleaning agents, try using baking soda. Mixed with water, it's great for cleaning grout, counters, and fixtures.
Also try mixing it with vinegar for an ideal window cleaner. Mineral oil is a terrific furniture polisher and floor wax without the overpowering smell.
Use garlic to get rid of mold and mildew and beer, believe it or not, to get rid of pests in the house.
Peppermint oil also works to repel pests and rid your pets of fleas.
Won't do anything about the in-laws, though…sorry.
Remember, keep recycling.
Mr. Murph