On March 23, 2012
kiddos, project, Recycle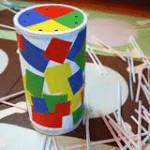 Thinking you got star potential? For you kidz wanting a recycling project…here's a good idea–
Create a drumset using yogurt containers, oatmeal canisters, and cookie tins.
Use dowels for the drumsticks and cover with colorful construction paper…and you're good to go.
Not only is it a great recycling project, but it' a great way to discover your musical talent…
and have hours and hours of fun making noyz.
Parents, you can thank us later.
Mr. Murph