On January 3, 2012
hazardous material, recycling
Thanks Mr. Murph. Love the guest spot.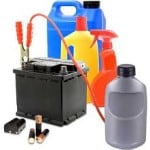 Being the good Eco Mama that I am, I was sitting around the other day thinking about how critical recycling is for a cleaner environment for Tulsa. I tend to do that, you know.
Then, it suddenly struck me…there are some things you just can't recycle. Things like paints, cleaners, and other hazardous materials. So what do you do with them?
I brain stormed a little (and boy does my head hurt) and came up with these ideas:
Use an alternative, non-hazardous material in the first place.
Use up the material completely as much as possible; then  solidify what's left over by letting it dry or soak up in an absorbent material.
Recycle batteries and oil where possible (electronic consumer chains like Best Buy, Circuit City and Office Depot have recycling kiosks inside their stores) or dispose in special municipal collection sites.
Remember, you and I can be problem solvers when it comes to stuff that can't easily be recycled. It just takes a little common sense and commitment to provide for a cleaner Tulsa.
Remember, keep recycling.
Eco Mama