On February 10, 2012
aluminum, bottles, Recycle
Got a super fun fact 4 ya…
Did you know…the energy saved by recycling just one bottle could light a 100-watt bulb for 4 hours?
Now, there's a bright idea…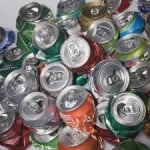 Here's another fun fact:
Did you know throwing away a single aluminum can, versus recycling it, is like pouring out six ounces of gasoline?
Knowledge is power and so's that can mi amigo…recycle today.